Discover more from Crip News
A weekly roundup about disability arts and politics.
Over 2,000 subscribers
Crip News v.74
If your email client cuts things off, click through at the bottom to see the full issue. Thanks for being here.
NEWS
New Works
Disability Direct Action
Peter Torres Fremlin's newest issue of the excellent and encyclopedic Disability Debrief features the disability direct action protest happening through a sit-in in Poland demanding a rise in disability benefits. In Mexico, disability in public space must contend with the militarized "cripwashing" of the national security theater (article in Spanish).
In the US, the American Council for the Blind organized a rally outside the White House to demand accessible currency as the Treasury is redesigning the $20 bill to include a portrait of Harriet Tubman.
In Other News…
The US General Services Administration is requiring that federal listservs only be open to those with government email addresses. That means many of us will lose access to PL-COP-MAIN, the list of the plain language community that has been a wonderful public resource.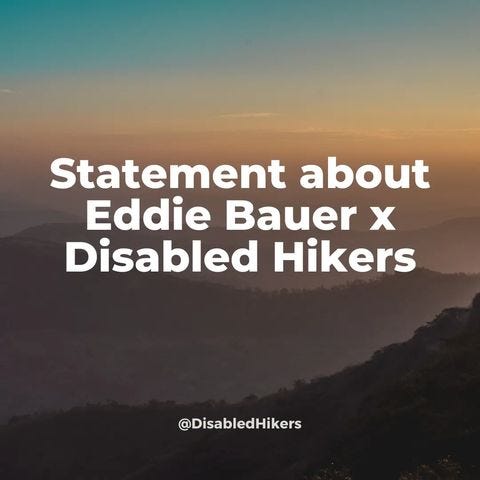 Organizers including Disabled Hikers were abruptly cut from collaborations with Eddie Bauer, leaving them without financial support. An Instagram post shows a hazy view of mountains at dusk or dawn. "Statement about Eddie Bauer x Disabled Hikers."
---
CALLS
Graphic text Instagram post with a blurred fabric background with rust and pale grey natural dyes across its surface in small line patterns. In the top center of the graphic is the SiQ logo, with the letters S and Q in dark grey, and the blood drop lowercase 'i' in deep rust orange. A bold dark brown text bar with all caps transparent font is centered across the top of the graphic that reads: RUST DYE RAFFLE FUNDRAISER for Thai. Beneath this is a warm grey text bubble with rounded edges, with white text reading: We're raffling off two original SiQ merch shirts with a silkscreen printed design by Thai Lu, naturally dyed by Dove ER*, to raise funds for Thai's critical medical supplies. In the lower left corner is a smaller eggshell toned text bubble with warm grey text reading: details for how to enter are on the following slides! 🖤 [black heart emoji] In the lower right corner is another text bubble in burnt orange with white text reading: SUPPORT THAI DIRECTLY! vnmo @ SensiSkins c@sh@pp sensiSkins. GoFundMe here.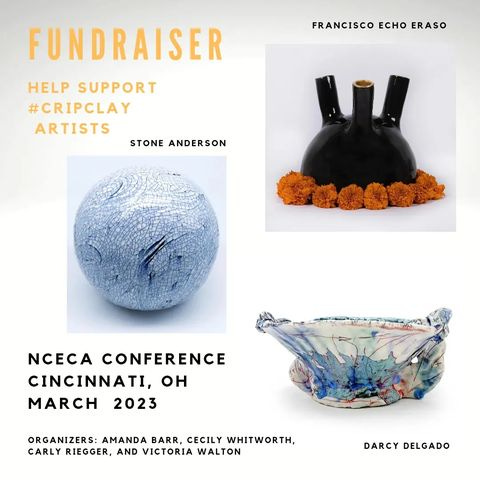 ---
EVENTS
TODAY, March 20, 2:30 - 3:30pm ET, on Zoom
The Society of Disabled Oracles is "a living chorus and archive of disabled wisdom from the past, present and future," created by Alice Wong & Aimi Hamraie, with visual design by Jen White-Johnson. The project is a collection of telegrams by disabled oracles to the world. As we celebrate the launch of this project, we will ask: What truths, prophecies, and warnings do you want to share with the world? Our party will feature oracular incantations by Perel, Ezra Benus, Leah Lakshmi Piepzna-Samarasinha, and Cyree Jarelle Johnson and a DJ set by Who Girl (Kevin Gotkin).
TODAY, March 20 @ 5:30pm CT & Friday, March 24th @ 12pm CT, in-person & online
Monday: Artist Talk. Friday: Blind Field Shuttle is a non-visual walking tour in which participants line up behind the artist, link arms, and agree to shut their eyes for a roughly hour-long walk.
Tuesday, March 21, 12pm ET, online
A critical dialogue on exclusionary sanism featuring Nika Mavrody, Tamar Jeynes, David Mordecai, aerik woodams and Nev Jones.
Saturday, March 25, 8pm ET, sold out in-person and livestreamed
Introducing CRIPtonite, a new drag and burlesque show featuring disabled performers! Join us in-person at Buddies in Bad Times Theatre or online via livestream at thedisabilitycollective.com as we celebrate the intersectionality of queer and disabled identities!
---